In the world of home investment, swimming pools are a questionable feature. While useful for family get-togethers and outdoor excursions, many consider pools to be a liability which lower the value of the property. Many home owners and property investors choose to fill swimming pools, eliminating the need for maintenance and liability concerns.
Crews can remove a pool using several different techniques including semi-permanent pool covers, partial removal, and complete removal of the concrete or fiberglass structure. Figure 1 shows a Genesis crewman filling a swimming pool with clean dirt, completing a partial pool removal.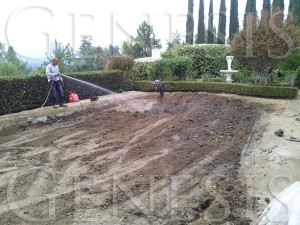 Several factors to consider when deciding whether to fill an in-ground swimming pool:
Evaporation. Uncovered pools constantly lose water through evaporation, which increases the water bill.
Chemical Reduction. Most swimming pools require the use of hazardous chemicals (when concentrated) to keep the pool clean.
Injury Liability. If someone becomes injured in the pool, insurance companies usually hold the home owner responsible. Remove the pool, and remove the liability.
Leaks leading to failure or repairs. If the pool develops a crack and leaks into the subsoil, erosion could cause the pool to fail. If the leak is caught before an accident occurs, a repair can still be costly.
Partial removal, as in figure 1, means the demolition of the pool floor, while leaving the side walls intact. This allows water to pass freely to the water table and avoid flooding. If the home is sold after the pool filling project, the partial structure in the yard should be revealed to the buyers. Future construction and landscaping in the area may depend on the knowledge of buried structures.
Complete removals involve the demolition of the pool floor, side walls, plumbing, and pool motors. This most costly option takes the property back to square one. While the hole gets filled with clean dirt, also consider adding nutrients to the top soil. This aids in plant health for future landscaping. Starting from scratch (literally) allows home owners to create a landscape to match their tastes and styles, a genuine expression of pride in ownership.
Whether transformed into a Japanese garden, or play area for the grand-children, the gained square footage from filling a pool can add both monetary and intrinsic value to the home. We're sure you'll love the results.
Contact Genesis today for a free in-home consultation. We'd love to help you traverse this important decision which affects your property. Reach us toll free at 888.389.5533, or visit our free estimate page.